Weekends At Grandpas 4 (2015)
August 13, 2020
Benny
No comments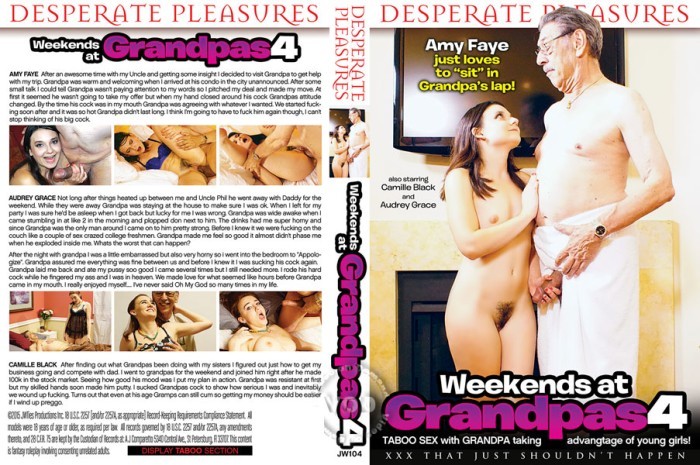 Description: After an awesome time with my Uncle and getting some insight I decided to visit Grandpa to get help with my trip. Grandpa was warm and welcoming when I arrived at his condo in the city unannounced. After some small talk I could tell grandpa wasn't paying any attention to my words so I pitched my deal and made my move. At first it seemed he wasn't going to take my offer but when my hand closed around his cock, Grandpa's attitude changed. By the time his cock was in my mouth Grandpa was agreeing with whatever I wanted. We started fucking soon after and it was so hot Grandpa didn't last long. I think I'm going to have to fuck him again though, can't stop thinking of his big cock. Not long after things heated up between me and Uncle Phil.
He went away with Daddy for the weekend. While they were away Grandpa was staying at the house to make sure I was ok. When I left for my party I was sure he'd be awhen i got back but lucky for me I was wrong. Grandpa was wide awake when I came stumbling in at like 2 in the morning and plopped down next to him. The drinks had me super horny and since Grandpa was the only man around I came on to him pretty strong. Before I knew it we were fucking on the couch like a couple of sex-crazed college freshman. Grandpa made me feel so good it almost didn't phase me when he exploded inside me. What's the worst that can happen? After finding out what Grandpa's been doing with my sisters I figured out just how to get my business going and compete with dad. I went to Grandpa's for the weekend and joined him right after he made 100k in the stock market.
Seeing how good his mood was I put my plan in action. Grandpa was resistant at first but my skilled hands soon made him putty. I sucked Grandpa's cock to show how serious I was and inevitably we would up fucking. Turns out that even at his age Gramps can still cum so getting my money should be easier if I wind up preggo.
Title: Weekends At Grandpas 4
Starring: Amy Faye, Camille Black, Audrey Grace
Language: English
Genre: 18+ Teens, Incest, Family Roleplay, Older Men
Duration: 01:43:20
Resolution: 852×480
Format: AVI
Size: 1.51 GB
Get a PREMIUM ACCOUNT and Download FASTER, with NO waiting time!!